Regular price
Sale price
$34.99 USD
Unit price
per
Sale
Sold out
Do you lack the time to constantly create high-quality content for your social media channels? Focus on the essentials again and let us do the rest!

🎨 Discover our comprehensive package of 300 premium real estate templates, specially designed for social media, and wow your followers without spending hours tweaking every post.

What awaits you in this exclusive package?

🚀 50 inspiring real estate tips: Position yourself as the expert everyone looks up to.
📢 50 eye-catching real estate listings: Attract potential clients and make your listings stand out from the crowd.

🏠 100 viral real estate quotes: Inspire your followers and get shares and likes.

💡 100 interaction-promoting questions: Stimulate conversation and encourage community interaction on your posts.

Give your social media presence a professional touch while focusing on your core competencies and customers! Increase your reach, encourage interactions and position yourself as an industry expert without wasting valuable time.

🛒Click "Add to Cart" NOW to make your social media activities efficient and effective! 

View full details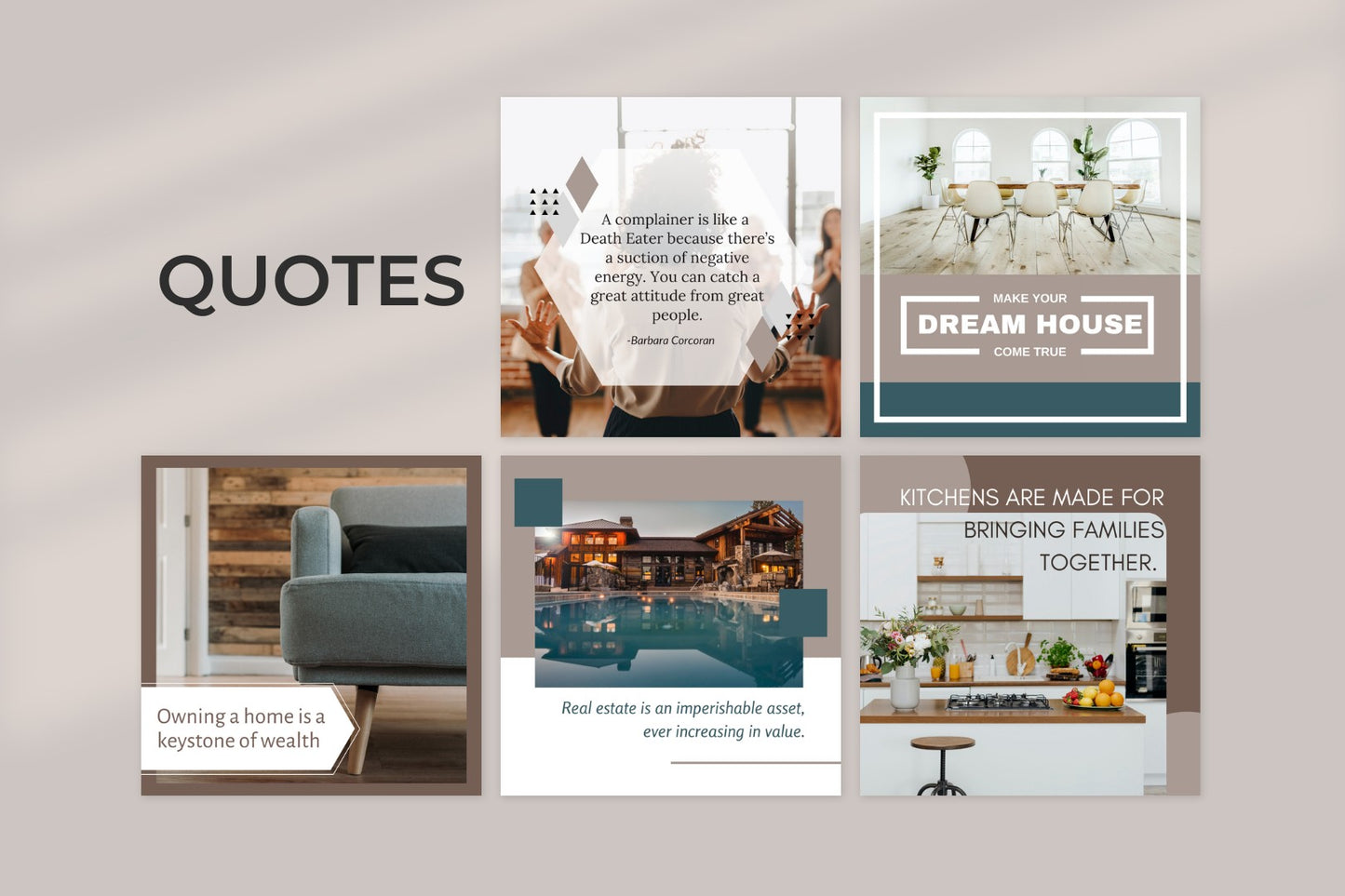 Real estate agents can no longer ignore social media
If you are not present on social media as a real estate agent, you are missing one of the most effective opportunities to be truly successful.

These days, most of your potential clients who are looking for a realtor to work with will first want to learn more about the selection by looking at various profiles on social media.

Without a strong presence on social media, i.e. your digital business card, you will appear
Unprofessional to potential clients.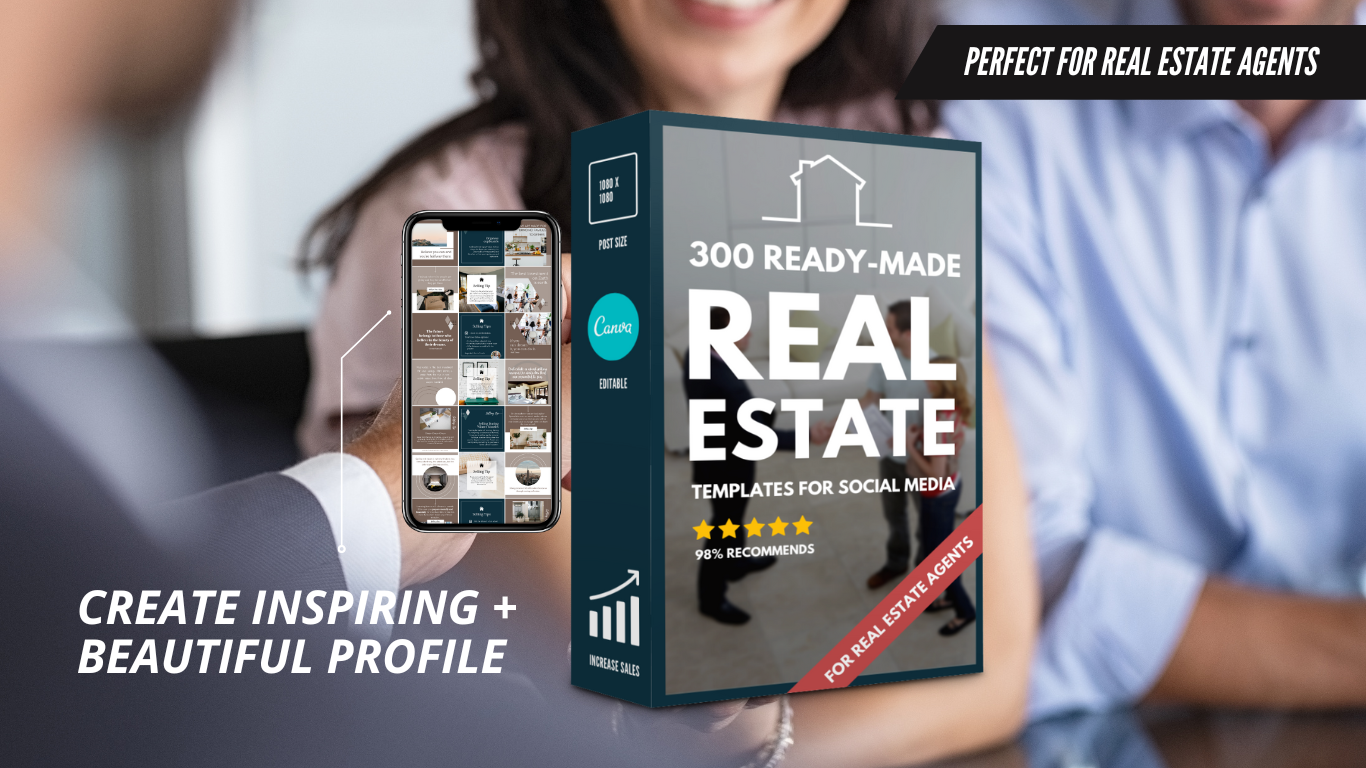 For busy real estate professionals
As a real estate agent, you have a million things to do. Stop wasting your time and money. Get instant access to beautiful social media content designed specifically for the real estate industry and start sharing inspiring posts in seconds.

All templates are unique and include stylish layouts, high-resolution images and optimally written texts. They are tested and more than proven to increase your social media reach, visibility, engagement, followers and sales.
100 Viral Quotes

We have selected some viral quotes for real estate agents like you. Quotes can inspire, stir emotions and motivate readers with just a few words. Quotes can also increase your visibility and bring you new followers.

50 Offer templates

Social media is your most powerful tool to sell more. Make your listings look professional with these high-quality templates. These are the most important templates for every real estate agent!

100 questions that promote interaction

These questions put your followers in a challenging situation that makes them think and engage with your posts. High engagement rates help you close a deal when the time is right.

50 inspiring tips

Be the leader you want to be - by sharing valuable content, you appear to be the real estate professional your followers think you are. Tips are one of the best ways to build trust and loyalty.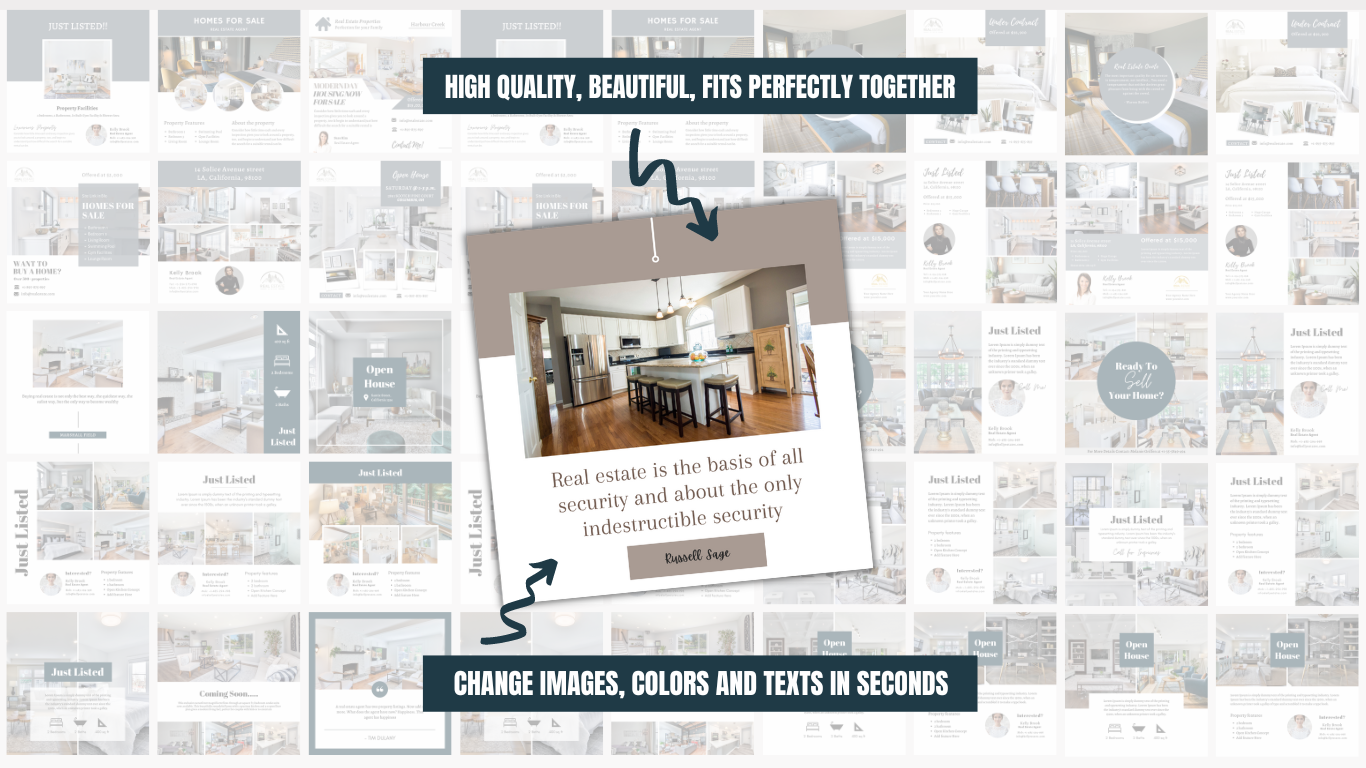 Easy to use and share
All templates are fully editable. Customize the templates to matchour brand by changing any color, font, image or element in seconds.

Share them on social media and watch your business grow!

Finally you can share inspirational content on a daily basis.
Frequently Asked Questions
Do I need a Canva account?

Yes, you need a Canva account, but don't worry - it's completely free and super easy to create one.

If you would like to create a new Canva account, you can do so here:

Note that if you upgrade to Canva Pro - which is absolutely not necessary for our templates - we get a small commission.
Can I access these templates on my phone?

Yes! However, editing templates on the desktop is much easier.
How can I access my templates?

After purchase, you will receive a .PDF file with links to the templates via email. After adding the templates to your Canva account, you can access your files directly from Canva.
Can I edit the templates?

Yes! All of our templates are fully editable.
What if I'm not happy with my purchase?

No problem! We understand! Contact our customer service and let us know that you want a refund.
Save time and money with ready-made templates
Get instant access to beautiful content. With ready-made templates you save a lot of time and money and can create inspiring posts in seconds. All of our templates are tested and proven to increase your reach and visibility, engagement, followers and sales on social media.